GENERAL INFORMATION
Registration: New For 2019
PAYMENT PLANS
Each camp session will need to be reserved with a non refundable deposit. Camp would need to be paid in full before the end of each tier that you have signed up for. We can work with you to set up an Automated Payment Plan using automatic payments with MasterCard or Visa.  We can also set up an Electronic Funds Transfer through a checking or savings draft.
Payments will be broken down and paid on the first business day of each month and paid in full prior to your camper's arrival.
If you have any questions please call our office and speak with Jennifer, our office manager, to discuss setting up automatic payment plans.
Register online and pay with a credit card. In order to receive the discount fee, the camp office must receive a COMPLETED form WITH PAYMENT on or before each tier price deadline. FIRST TIER PRICING DEADLINE- MARCH 15, 2019. SECOND TIER PRICING DEADLINE- JUNE 2, 2019
Confirmation
Once you have registered for camp, you will receive a confirmation e-mail.
Cancellation Policy
For all on-site camps, fees are refundable with the exception of $25 if the camp office is notified of cancellation at least three days before session starts. There will be no refund for off-site camps unless the vacated spot can be filled.
Souvenir Group Picture
There will be an all-camp group picture taken at each camp session. The group pictures will be available to download from our website at no additional cost. .
Canteen
Souvenirs, snacks, and miscellaneous items may be purchased at the Canteen. While camp is in session, snacks will be provided for Day Camps and Super Saturday ONLY!!. Campers attending all other Camps will use their own spending money to purchase snack items. The Canteen will open each afternoon and evening during camp session. The costs of snack and drink items range from $1.00 to $2.00. Campers are allowed to purchase two items per visit (maximum of $8 per day). All campers will have an opportunity to purchase souvenir items during registration / check-in and at camp closing.
Camper Mail
Campers may send out mail from the camp office. Campers should bring paper, envelopes and postage stamps with them. Campers may also receive mail while at camp. Please allow 2-3 days for delivery. DO NOT SEND FOOD!! Food items will be confiscated. Please do not send faxes.
Address mail to:
Camper's Name
Name of Session
PO Box 218
West Lebanon, IN 47991-0218
Camp staff is not responsible for mail that does not include camper's name and name of camp session.
Camper Email
When you are register your child for summer camp online, you can sign up for a free telegram service that is connected with your login registration.  
First-Aid / Medical Insurance
There will be a First-Aid Attendant on duty for every camp. All camper medication is to be in ORIGINAL CONTAINERS and turned in to the First-Aid Attendant at camper check-in. Parent or guardian will be notified of camper illness or injury. Campers will be sent home if they have an above-normal temperature or if they are found to have lice. Camper medical insurance is the primary coverage. Uninsured campers must provide the camp office with a letter stating such. In such case, the camp insurance will provide coverage.
Homesickness: Campers are encouraged with understanding and compassion to stay at camp and participate in the program. We do not encourage campers to talk to a parent or guardian on the telephone. However, camp personnel will communicate with the parent or guardian about the situation.
JOY Camp: Volunteer Licensed nurses will dispense all medications and tend to the needs of the campers. Campers needing total care must be accompanied by an adult familiar with their individual needs.
Check-In & Pick Up Procedures
Camp check-in and dismissal times are listed on the summer camp book, as well as on the camp confirmation e-mail you will receive once you have registered. (NOTE: Indiana is on Eastern Time. Start and End times are listed as EDT.)
If a camper needs to leave the camp at other times, written parental permission must be received by the camp office. Upon departure, camper must sign out in the office or with the First Aid Attendant after office hours. When a camper returns, he/she must sign back in. It is best when the camper does not leave camp while camp is in session. At the end of each event, campers will be dismissed and checked out. For camps that end with a closing program, campers will not be released until the END of the program. Written parental permission must be given to the camp office if a camper is to leave with someone other than a parent or legal guardian.
Camp Staff & Faculty
Volunteers from Hanging Rock's supporting Christian and Church of Christ Churches serve on the team of faculty. School teachers, ministers, parents, college and high school students are an example of those serving. Each Event Coordinator is responsible to provide faculty for his/her event. The faculty works directly with the campers as family group leaders, teachers, worship leaders, recreation directors, and dormitory chaperones.
Paid employees serve on the team of camp staff. College-age students are hired to serve during the summer camp season to assist the full-time employees with building and grounds maintenance, janitorial duties, food service, dishwashing, life guarding, facilitate recreation and dorm R.A. Each dorm will have a paid RA that will supervise the dorm along with volunteer faculty.
Camp Activities
All camp sessions include Bible study and scripture memorization, praise and worship, missionary speakers, games and recreation. Included for grades 3-12 are swimming, hiking, lawn games, basketball, gaga ball, carpet-ball, ping-pong, foosball, indoor rock climbing and the giant swing. Additional activities for grades 5-12 include zip-lining, rappelling, a low-impact challenge course, archery, fishing, canoeing and paddle boating. Wilderness programs may include the above recreational activities with additional optional activities for 7-12th graders including canoeing, tubing, or horseback riding as planned by the Event Coordinator.
Sample daily schedule
Residential & Wilderness Camps
Event Coordinators plan schedules and activities.
Subject to change per camp.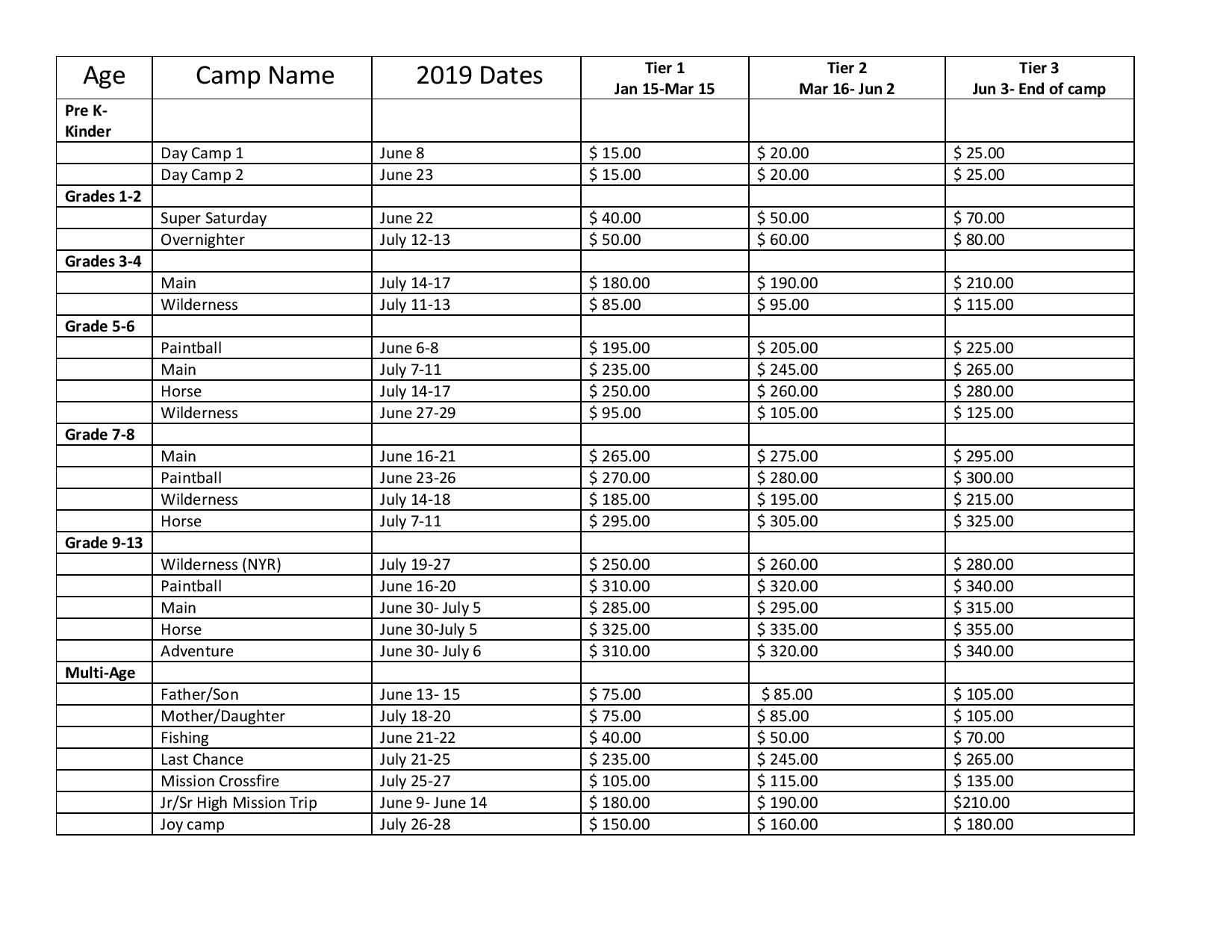 Packing Lists
| | |
| --- | --- |
| 8:00 am | Breakfast |
| Morning | Bible Classes, Worship & Missions |
| 12:00 noon | Lunch |
| Afternoon | Family Groups, Recreation, Canteen |
| 5:30 pm | Supper |
| Evening | Worship, Family Groups, Activities, Campfire, Devotions, Prayer Circles, Canteen/Snacks |
| Check In Days | There will be no evening meal served but a snack later that evening. Please make sure that your child has eaten before coming to camp. |
Youth Camp Curriculum Objectives
Curriculum focus is Christ. Each year the Camp Committee chooses a theme that focuses on the major events of Jesus' birth, life, death, resurrection, ascension, and return. Basic attributes of God and Christ are stressed but the focus is on acts and deeds. For Junior or Junior High, the focus shifts to the significance of Jesus, with an emphasis on titles and roles: Messiah, Son of God, Lord, Savior. Jesus' teachings are brought into focus. Senior High campers focus on more complex material: synoptic studies and Christological passages in the epistles. Christ's divinity, pre-existence, humanity, and roles as advocate, judge, and Lord.
Our emphasis is education, encouragement, and help for campers to accept Jesus as their personal Lord and Savior and obedience that leads to baptism by immersion.
Campers are introduced to World Outreach through visiting missionaries. Offerings for the mission will be collected at each camp event. All monies received will be given to the mission.